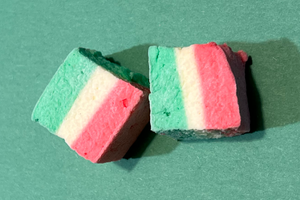 Rainbow Cookie
Regular price $10.95 Sale
Rainbow Cookies are a beloved dessert in the northeast, flavored with almond extract and colored to match the Italian flag. But just like you don't need Italian heritage to love rainbows, you'll love the taste of these mallows no matter your background.
Each of these marshmallows are bursting with almond flavor. New two almond extract? It doesn't actually taste like almonds, but instead tastes like amaretto. You could almost imagine it as a richer version of vanilla.

Marshmallows all have a best by between 2-4 months from cook date, depending on flavor.