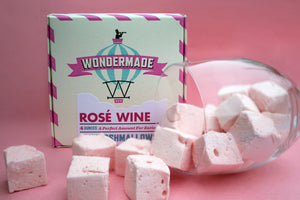 Rosé Wine
Regular price $10.95 Sale
These bright and flavorful Rosé Wine marshmallows capture all the fun and delight of rosé. Brand new to Wondermade, and packaged in our new pink boxes, these are some of our tastiest ever treats.
All of our marshmallows are made with real cane sugar, for a crisper "sweet" and a better aftertaste. Gluten-Free and made with Kosher ingredients. Each box of 16 marshmallows is packaged in lovingly letter-pressed, American-made paper.
Marshmallows all have a best by between 2-4 months from cook date, depending on flavor.